I am curious about the sugar content of some popular soft drinks. How much sugar I consume each bottle or can. Lets start the measurement!
How do I measured the sugar content? I measured it using refractometer. One degree Brix is equivalent to one gram sugar per 100 ml/g sample. I also included the estimated calories assuming that 1 gram white sugar is equal to 3.75 calories.
Sting energy drink
content = 240ml
sugar = 36 g / 3tbsp
calories base on sugar = 135
Sting nutritional content
energy 153
carbohydrates 39
vitamin B3 7mg
vitamin B6 1mg
vitamin B12 1mg
ginseng extract 7mg
inositol 17mg
taurine 105mg
Cobra energy drink
content = 240ml
sugar = 42.2 g / 3tbsp
calories base on sugar = 162
My sugar measurement is a little higher base on Cobra's nutritional facts. I base my calorie measurement on sugar content only because I still don't know the other values. Hope to include it next time.
Cobra nutritional content
calories 195
Total Fat 39
sodium 49 mg
total carbohydrates
sugar 39g
protein 3g
Vitamin B1 1.35mg
Vitamin B6 1.35mg
niacinamide 0.7 mg
vitamin B12
taurine 105mg
inositol 16mg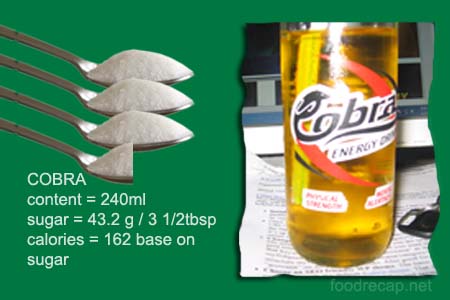 Pepsi
content = 237ml
sugar = 2 1/4 tbps
calories base on sugar content = 105
Whats next?
Coke, pop, royal and more. Visit again for updates!
Update as of May 17 2012. Sorry folks! I need a sugar refractometer or sugar hydrometer to update this article.  I will continue this once I got one.  The refractometer I used have gone to its original owner. Care to donate one for me?